How does the Spanish football pyramid impact on Menorca?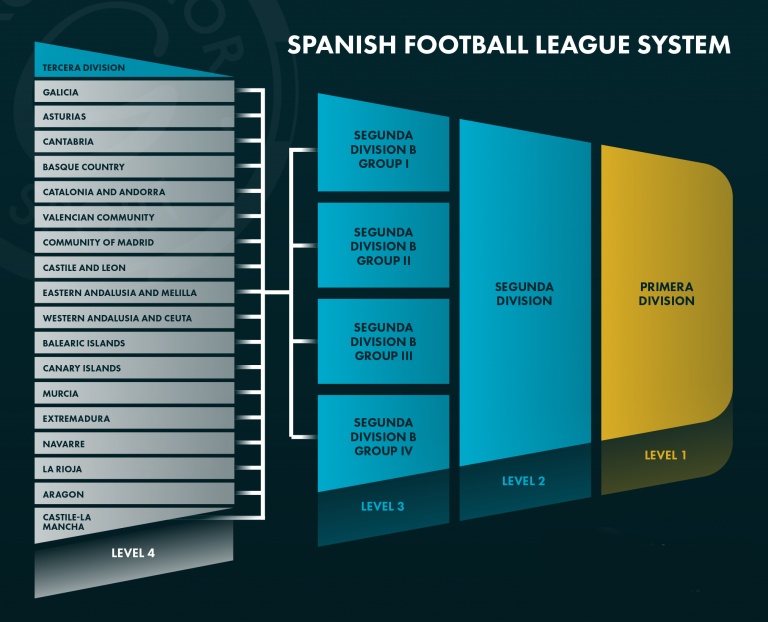 The Spanish football pyramid works as follows:
Tier 1 – La Liga (20 teams)
Tier 2 – Segunda Division (22 teams)
Tier 3 – Segunda Division B (4x 20 teams)
Tier 4 – Tercera Division (18x 20 teams)
Tier 5 – Regional Preferente (37 groups, 620 teams total)
Accompanying image above from the Grosvenor Casino blog
As of 2019/20, there are no Menorca teams in Group 11 – Balearic Islands of the Tercera Division.
The division currently comprises 21 teams, who play each other home and away.
The top team qualifies for the group champions' play-offs and the Copa del Rey.
The teams in second, third and fourth qualify for the promotion play-offs.
The champions' play-offs sees the 18 group winners, including the Group 11 winners, being drawn against each other in a two-legged series, where the nine winners will earn to promotion to Segunda Division B.
In the promotion play-offs, the 18 group runners-up were drawn against one of the 18 group fourth-placed clubs outside their group, and the 18 third-placed clubs were drawn against each other, all again in a two-legged series.
The 27 winners will then join the nine losing clubs from the champions play-offs to create 18 ties in another two-legged series, with the lower-ranked club play at home first.
The bottom 4 teams are relegated to Regional Preferente.
Regional Preferente consists of three leagues – one for each island of Menorca, Mallorca and Ibiza.
In 2019/20, there are 10 teams in the Regional Preferente Menorca.
Each team plays home and away against the other eight teams for a 16-game season. The champions then proceed to play a play-off against the champions of the Ibiza league to earn promotion to Tercera Division Group 11.
Prior to the Preferente Menorca league season starting this year, a cup competition takes place where all teams play each other once, with the top four teams progressing to the semi-finals and then a final.
Prior to each season starting, the league winners face the cup winners in the Preferente Menorca Super Copa.