Menorca clubs in the Copa del Rey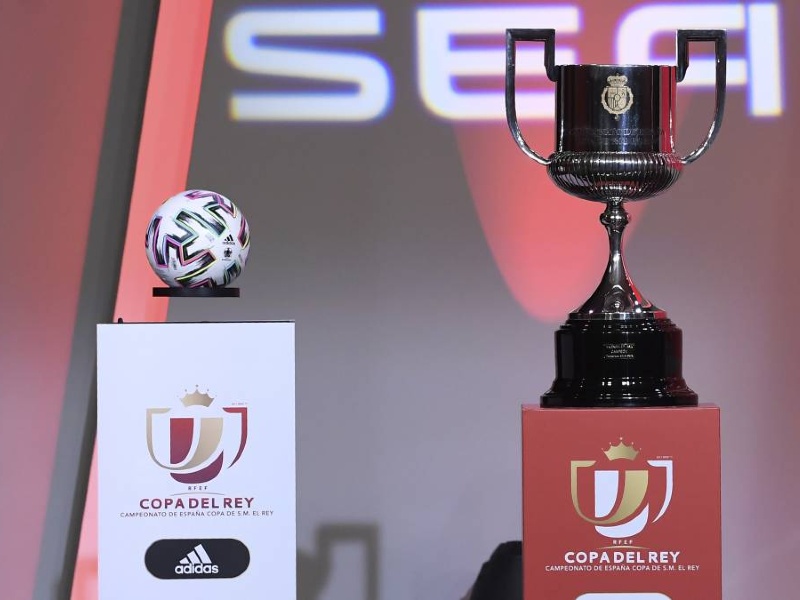 The Copa del Rey is the Spanish version of the FA Cup, and it is now 10 years since a Menorcan side featured.
That team was Sporting Mahones, who qualified courtesy of their league position in Segunda Division B, for the 2009/10 season going down 5-4 on penalties following a 1-1 draw against Alicante.
Unlike the FA Cup, where every team in tiers 1-8 participates, plus those successful applicants from tiers 9 and 10, there is no blanket inclusion for teams in the Spanish Cup.
A total of 736 teams entered the FA Cup, whereas that number was just 126 for the Copa del Rey. For the 2019/20 season that comprised:
20x La Liga (tier 1) teams from 2018/19
21x Segunda Division (tier 2) teams from 2018/19 (Reus were excluded)
28x Segunda Division B (tier 3) teams from 2018/19 (the top seven non-reserve teams from each of the four groups)
32x Tercera Division (tier 4) teams from 2018/19 (the best non-reserve team from each of the 18 groups, plus the best 14 runners-up)
4x Copa Federacion semi-finalists from 2018/19 (the Federation Cup is a lower-league competition, similar to EFL Trophy or FA Trophy)
20x Regional Leagues (tier 5) winners from 2018/19 (the winners of the 20 groups)
Now the Menorca league sits at tier 5, but it would appear that no place is afforded to it – instead the Mallorcan champion, Andratx last season, takes up the Balearic space.
Not only would a Menorca side have to earn promotion to the Tercera Division to have a chance of reaching the Copa del Rey, they would have to do particularly well – either finishing top two or reaching the Federation Cup semi-finals.
So unfortunately, it doesn't look like we'll be adding to the list below any time soon.
Club
Times
Entered
Best
Progress
Record
UD Mahon
3
Round 4
1927/28 (Pre), 1969/70 (R4), 1973/74 (R3)
CD Menorca
3
Round 2
1969/70 (R1), 1972/73 (R2), 1973/74 (R2)
Atletic Ciutadella
7
Round 3
1971/72 (R1), 1972/73 (R3), 1973/74 (R1), 1974/75 (R1), 1979/80 (R3),
1981/82 (R2), 1982/83 (R2)
Sporting Mahones
14
Round 4
1977/78 (R1), 1979/80 (R1), 1980/81 (R1), 1981/82 (R1), 1982/83 (R1), 1984/85 (R1), 1985/86 (R2), 1986/87 (R1), 1987/88 (R1), 1988/89 (R3),
1990/91 (R4), 1991/92 (R2), 1992/93 (R1), 2009/10 (R1)
CE Alaior
2
Round 1
1990/91 (R1), 1991/92 (R1)
The first Menorcan club to enter the Copa del Rey was UD Mahon in 1928. They actually started at the same round as Real Madrid, the Classification Round, where there were two ties and the two winners proceeded to the group stage which consisted of four groups of six. The eventual winners of the cup that year were Barcelona.
Generally in the opening few rounds, clubs are paired based on their proximity. So in years where there were multiple Menorcan sides, the chances are that they would be drawn together in the first round. Beyond that, they would likely play another Balearic team, and only beyond that would they face teams from wider Spain.
One example in 1973/74, saw CD Menorca beat Atletic Ciutadella in the first round, before losing to UD Mahon in the second round.
The 1970s was undoubtedly the golden era for Menorcan sides in the competition, with Atletic Ciutadella featuring five times and both UD Mahon and CD Menorca featuring on a couple of occasions in the first half of the decade. However, 1975 would see the controversial merger of UD Mahon and CD Menorca to form Sporting Mahones, with the merged club making their maiden appearance in 1977/78.
Atletic Ciutadella continued their prowess in to the early 80s, beating Mahones in the first round in 1980/81 before going down to Real Mallorca in the second round.
In 1982/83, Atletic Ciutadella took on La Liga side Espanyol in the second round, going down 13-0 on aggregate.
It took Mahones six goes to register a win over two legs in the competition, finally getting past the first round in 1985/86, which set up a second round clash with Real Mallorca which they lost 5-1 on aggregate.
Mahones best season in the Copa del Rey came in 1990/91, when they progressed to the fourth round, eventually going down 4-2 on aggregate to Elche.
Sadly, the lack of quality from Menorca in recent years is evident by the fact that only once in the last 28 years have they had a team representing the island in the competition – Sporting Mahones back in 2009/10.
| | | | | | |
| --- | --- | --- | --- | --- | --- |
| 1927/28 | Classification | UD Mahon | 1-5 | CD Europa | |
| | | CD Europa | 8-2 | UD Mahon | |
| 1969/70 | First Round | Atletico de Cataluna | 1-1 | UD Mahon | |
| | | UD Mahon | 1-0 | | |
| | | Tarrasa | 2-0 | CD Menorca | |
| | | CD Menorca | 0-3 | Tarrasa | |
| | Second Round | Reus Deportivo | 1-0 | UD Mahon | |
| | | UD Mahon | 3-1 | Reus Deportivo | |
| | Fourth Round | UD Mahon* | 0-0 | Espanyol | |
| | | Espanyol | 2-1 | UD Mahon | |
| 1971/72 | First Round | Atletic Ciutadella | 0-1 | UD Poblense | |
| | | UD Poblense | 4-1 | Atletic Ciutadella | |
| 1972/73 | First Round | Atletic Ciutadella | 0-0 | Atletico Baleares | |
| | | Atletico Baleares | 1-2 | Atletic Ciutadella | |
| | Second Round | CD Menorca | 1-0 | Atletic Ciutadella | |
| | | Atletic Ciutadella | 4-0 | CD Menorca | |
| | Third Round | Atletic Ciutadella | 1-1 | San Andres | |
| | | San Andres | 2-1 | Atletic Ciutadella | |
| 1973/74 | First Round | Atletic Ciutadella | 3-2 | CD Menorca | |
| | | CD Menorca | 3-2 | Atletic Ciutadella | 5-3 on pens |
| | Second Round | CD Menorca | 1-1 | UD Mahon | |
| | | UD Mahon | 4-1 | CD Menorca | |
| | Third Round | UD Mahon | 1-1 | Gimnastic | |
| | | Gimnastic | 1-0 | UD Mahon | |
| 1974/75 | First Round | Atletic Ciutadella | 2-2 | UD Poblense | |
| | | UD Poblense | 4-0 | Atletic Ciutadella | |
| 1977/78 | First Round | CD Malaga | 2-0 | | |
| | | Sporting Mahones | 1-3 | CD Malaga | |
| 1979/80 | First Round | Sporting Mahones | 1-0 | Atletic Ciutadella | |
| | | Atletic Ciutadella | 2-0 | | |
| | Second Round | Atletic Ciutadella | 5-0 | CD Andraitx | |
| | | CD Antraitx | 2-2 | Atletic Ciutadella | |
| | Third Round | Espanyol | 3-0 | Atletic Ciutadella | |
| | | Atletic Ciutadella | 0-3 | Espanyol | |
| 1980/81 | First Round | Sporting Mahones | 1-2 | CD Margaritense | |
| | | CD Margaritense | 1-0 | | |
| 1981/82 | First Round | Sporting Mahones | 0-1 | Atletic Ciutadella | |
| | | Atletic Ciutadella | 0-1 | Sporting Mahones | AC win on pens |
| | Second Round | Atletic Ciutadella | 1-4 | Real Mallorca | |
| | | Real Mallorca | 3-0 | Atletic Ciutadella | |
| 1982/83 | First Round | Atletic Ciutadella | 3-0 | | |
| | | Sporting Mahones | 2-1 | Atletic Ciutadella | |
| | Second Round | Atletic Ciutadella | 0-7 | Espanyol | |
| | | Espanyol | 6-0 | Atletic Ciutadella | |
| 1984/85 | First Round | Sporting Mahones | 0-0 | Real Mallorca | |
| | | Real Mallorca | 5-0 | | |
| 1985/86 | First Round | Murense | 1-1 | | |
| | | Sporting Mahones | 3-0 | Murense | |
| | Second Round | Real Mallorca | 4-0 | | |
| | | Sporting Mahones | 1-1 | Real Mallorca | |
| 1986/87 | First Round | Sporting Mahones | 0-2 | UD Poblense | |
| 1987/88 | First Round | Sporting Mahones | 0-2 | UD Poblense | |
| | | UD Poblense | 0-0 | | |
| 1988/89 | First Round | UD Alzira | 2-1 | | |
| | | Sporting Mahones | 4-1 | UD Alzira | |
| | Second Round | CF Gandia | 1-1 | | |
| | | Sporting Mahones | 2-1 | CF Gandia | |
| | Third Round | Sporting Mahones | 3-1 | Real Burgos | |
| | | Real Burgos | 4-0 | | |
| 1990/91 | First Round | CD Badia | 1-2 | | |
| | | Sporting Mahones | 5-0 | CD Badia | |
| | | CD Alaior | 1-0 | SD Ibiza | |
| | | SD Ibiza | 2-0 | CD Alaior | |
| | Second Round | SD Ibiza | 2-1 | | |
| | | Sporting Mahones | 4-0 | SD Ibiza | |
| | Third Round | Atletico Tomelloso | 1-1 | | |
| | | Sporting Mahones | 0-0 | Atletico Tomellos | |
| | Fourth Round | Sporting Mahones | 1-2 | Elche | |
| | | Elche | 2-1 | | |
| 1991/92 | First Round | CE Alaior | 1-1 | | |
| | | Sporting Mahones | 4-2 | CE Alaior | |
| | Second Round | SD Ibiza | 0-0 | | |
| | | Sporting Mahones | 1-1 | SD Ibiza | |
| 1992/93 | First Round | CD Manacor | 1-1 | | |
| | | Sporting Mahones | 2-2 | CD Manacor | |
| 2009/10 | First Round | Alicante | 1-1 | Sporting Mahones | (5-4 on pens) |
*UD Mahon got a bye in the third round