Jon Bautista follows in Enrich's footsteps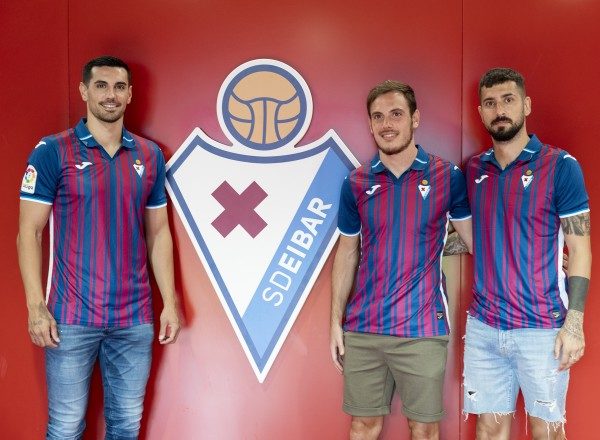 Mahon-born striker Jon Bautista has signed for SD Eibar, following in the footsteps of island counterpart Sergi Enrich.
Bautista, 27, was with La Liga club Real Sociedad, but spent last season on loan in Segunda Division at Leganes.
He now makes the move to Segunda permanent, but with Eibar, signing a deal until 2025 with the aim of helping them return to the top flight.
Bautista has played 67 games in La Liga, scoring six goals, and a further 24 games in Segunda. He has also played 12 Europa League games.
He said: "I am very happy to come to Eibar. Last year was not a good year, I had an injury and things did not go as I wanted but I am happy that Eibar has bet on me.
"I have no choice but to work day by day and I hope that this year the objectives will be achieved and that personally I will also be a good season for me. I have personal goals like scoring goals but above all there is the team."
Although born in Mahon, Bautista moved to the Basque country at a young age and came through the youth ranks at Sociedad.
His departure from Sociedad means it's unlikely there will be any Menorcan representative in La Liga next season.
Enrich previously played in La Liga for Eibar, where he spent six years, scoring 34 league goals and becoming captain of the side.
Meanwhile, other players up the leagues from Menorca are on the move.
Striker Aitor Pons has signed for Aguilas, having helped former club Merida to promotion to the RFEF Primera Division last season.
https://twitter.com/aguilas_fc/status/1551834121780985856
The prolific goalscorer has scored 121 goals in the last six seasons, five of which were spent with Poblense, another side he helped to promotion.
Aguilas will play in the Tercera Division, Group 13. Menorcan side Mercadal play in Group 11.
Midfielder Pep Caballe is back in action with Racing Ferrol in RFEF Primera, having sat out the whole of last season through injury.
The former UD Ibiza and UE Cornella man played for the first time in 15 months in a pre-season game recently after a knee injury.