Menorca squad named for 2023 Island Games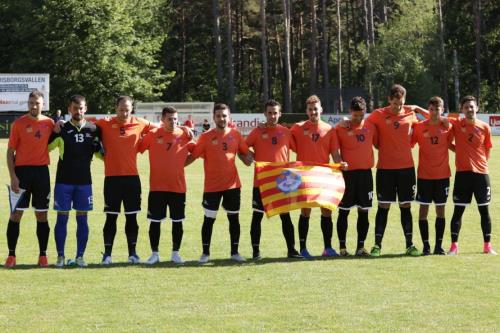 The Menorca national football team returns to action for the first time since 2019 at next month's Island Games in Guernsey.
Coach Joan Melia has named a 15-man squad, which includes five players who have previously represented Menorca at the Island Games.
Helenio Olives and Victor Lebrebo will play in their fourth Island Games, having represented Menorca at Isle of Wight 2011, Jersey 2015 and Gotland 2017, while Marc Urbina, Eric Barber and Marc Rovellada also have Games experience.
Urbina was the top goal scorer in the 2021/22 Regional Preferente Menorca season for champions CD Menorca, before leaving last summer to join CE Mercadal in Tercera Division.
The goalkeepers in the squad are Sporting Mahon's Eric Ayala and Borice Ngong of CF Norteno.
The women's team includes one player, Tamara Cansado, who is making her debut in football at the Games having previously represented Menorca at tennis in Jersey 2015 and Gotland 2017 where she was a medallist.
Menorca didn't compete in the 2019 games in Gibraltar, while the 2021 edition was cancelled due to the coronavirus pandemic.
Menorca men's squad (club, where known, in brackets): Eric Ayala (Sporting Mahon), Eric Barber (Mercadal), David Barro (Migjorn), Marc Benejam (UE Sami), Xavier Bosch (UE Sami), Bernat Ferrando (CD Menorca), Victor Lebrero (CF Gava, Catalonia), Luis Martinez (UD Mahon), Borice Ngong (CF Norteno), Helenio Olives (Migjorn), Gerard Pons, Robert Pulido (Migjorn), Marc Rovellada (Migjorn), Tobal Torres, Marc Urbina (Mercadal)
Menorca women's squad: Lorena Alles, Tamara Cansado, Gràcia Florit, Roser Gelabert, Laura Marquès, Júlia Marquet, Cristina Mariscal, Aina Marquès, Aina Mesquida, Noa Moll, Marta Ramis, Africa Segui, Ainhoa Segui, Ariadna Seguí, Gisela Torrent.
Men's Group D
Sunday 9 July – Menorca v St Helena (Northfield), 6.30pm
Monday 10 July – Jersey v Menorca (Northfield), 2.30pm
Tuesday 11 July – Menorca v Isle of Wight (The Track), 2.30pm
Women's Group B
Sunday 9 July – Isle of Man v Menorca (College Field), 2.30pm
Tuesday 11 July – Menorca v Gozo (Blanche Pierre Lane), 10.30am