UE Sami sit top after five match days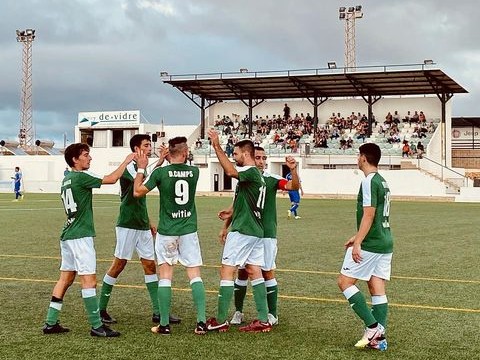 UE Sami sit top of the Regional Preferente Menorca after an unbeaten start to the season.
The Ciutadella-based club beat next door neighbours Atletic Ciutaella 3-0 in the season opener, and have also registered wins over CCE Sant Lluis (3-1) and CF Norteno (7-1).
This weekend they were 2-1 winners over Atletico Villacarlos.
Striker David Camps is the top goalscorer in the league having scored eight goals in five games so far.
Their only draw so far was away at cup winners CD Migjorn on matchday four, with the two teams battling out a goalless draw.
Migjorn are also unbeaten, though they have only played four matches to date, which places them three points behind Sami.
With the odd number of teams in the division, it was Migjorn who had to sit out the opening weekend of the season.
Since then, they have registered wins over Atletico Villacarlos (3-1) and Sporting Mahon (2-1), as well as an eye-catching 4-0 win away at reigning champions CD Menorca.
CD Menorca find themselves in eighth place, having suffered a shock 3-1 defeat to Atletico Villacarlos on matchday four.
That was Villacarlos' second win of the season, having opened up with a 3-0 win over new boys CF Norteno.
Norteno are one of three teams who are yet to register a point in the first five rounds.
They have conceded 20 goals in their first five games, scoring just three on a tough return to the competition after a seven year absence.
Also struggling are CCE Sant Lluis, who have shipped 18 goals in their five defeats, and Atletic Ciutadella.
Atletic haven't even scored a goal yet this season, though they have the best goal difference of the bottom three.
CE Alaior suffered a surprise home defeat to CE Ferreries on matchday one, but have since won four in a row in impressive fashion.
They won 3-1 away at UD Mahon, before scoring 14 goals in three wins over the bottom three clubs. They face Migjorn on matchday six.
Both CE Ferreries and UD Mahon have won three out of four so far.
In the mid-table spot of sixth are Sporting Mahon, who have recorded three wins and two defeats so far.
The 11 teams all take a week off on October 29/30, with matchday six scheduled for November 5/6.
Matchday 6 fixtures