When Menorca's biggest clubs were forced to merge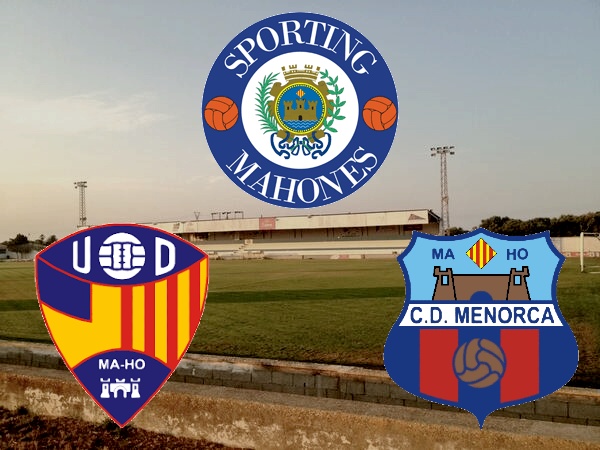 There is one critical period that sticks out more than most when researching the history of Menorcan football – and it came in the 1970s.
UD Mahon and CD Menorca, having represented the island in the third division and even being successful in that – between them, they had won seven of the 12 Third Division titles between 1955 and 1967.
But in the early 1970s, they had both fallen back to the Regional Preferente Menorca leaving the island with no representatives in the national league.
The continuous trips to play on mainland Spain were a massive economical burden. UD Mahon were relegated in 1970, and although they bounced back up in 1973, they would be relegated again, alongside CD Menorca, in 1974.
With an economic crisis meaning both clubs were suffering financial strife, a campaign was started to merge the two clubs in 1974, which gained widespread support across the city and by the local council.
They had been the fiercest of rivals, but the thinking was the traditional powerhouses of Menorca would be better together than apart.
On July 4, CD Menorca voted in favour of the merge and a day later, UD Mahon did the same.
Despite it being such a significant vote, just 33% (523 of 1650) members turned up to vote with 378 in favour of the merger.
The long-standing rivals were merged on July 17 to create Sporting Mahones Football Club.
UD Mahon ended the 20th century as Menorca's most successful club. They were founded in 1922, ironically following a merger of Mahones FC and Seislan FC.
Menorcan champions six times in the 1920s, they also were Balearic Islands champions in 1926 and 1928. They were the first team from the island to play in the Tercera Division, spending 20 years in that category, winning the league title in 1955, 1956, 1963, 1966 and unbeaten in 1967.
The San Carlos based club were the first Menorcan team to play in national competition, the Copa del Rey in 1928.
CD Menorca were founded in 1920 and moved in to their Mahones Stadium home in 1924. Recognised as the oldest club in Menorca, they were champions of the island twice in the 1950s and stepped up to Tercera Division, where they remained for 17 unbroken years, winning the title in 1962 and 1964.
Three times CD Menorca played in the promotion play-offs to try and reach Segunda Division, with UD Mahon featuring six times.
In 1967, CD Menorca welcomed Barcelona for a high profile friendly after the Catalan giants had signed Florencio Hernandez.
The merger to create Sporting Mahones
The agreement was that one season would be played at San Carlos, home of UD Mahon, and alternate seasons at Estadi Mahones, the home of CD Menorca.
But just three months later, UD Mahon said there had been several breaches of clauses agreed in the merger agreement and that started a judicial process that lasted for decades.
The breaches were believed to be relating to the liquidation of historical debt and also the continuation of the club's training teams.
The Balearic Federation prohibited either CD Menorca or UD Mahon from competing with senior teams in the Spanish league, since they considered that both had given up their rights to Sporting Mahones.
That led to a complaint from UD Mahon, who would go on to form a new team in 1975 called UD Seislan, who would play at San Carlos. A year later, CD Menorca followed suit by forming CD Isleno (later Menorca Atletico).
The so-called unionists, supporters of UD Mahon, initially registered their new UD Seislan as a basketball club to overcome the restrictions of the Balearic Football Federation.
They weren't even allowed to wear their traditional colours.
In 1975/76, US Seislan became the champion of Menorca and runner-up of the Balearic Islands. UD Mahon made a temporary return, in place of UD Seislan, from 1984 to 1987.
En la Preferente Menorquina tenemos al Sporting de Mahón, heredero del Sporting Mahonés, que es 4º a 5 puntos del Play-Off. Lidera la tabla la UD Mahón que fue junto al Menorca quiénes dieron lugar al Sporting Mahonés en 1974. El Atlétic Ciutadella lleva 0 puntos. pic.twitter.com/1Xtizep53E

— Jugadores Segunda B (@playerssegundab) January 26, 2019
Meanwhile, Sporting Mahones continued to play and represent the Menorca in the national divisions, first in the third division and then eventually in to Segunda Division B.
In the early 1990s, all three clubs were effectively competing at the same level – so instead of an amalgamated club to grow, there were now three as opposed to the two originally.
The old clubs regain their identities
After a long legal battle, in 2001, the Balearic Federation authorised UD Mahon and CD Menorca to compete at all levels with their name and traditional logos. CD Menorca returned in 2001/02 in place of CD Isleno, who subsequently dissolved.
UD Mahon once again adopted their original name at senior level, with their history between 1975 and 2001 (save for the three aforementioned seasons) coming under UD Seislan.
Sporting Mahones continued and earned promotion back to Segunda Division B in 2009, but would eventually collapse and withdraw from the league in 2012, and dissolving completing in the summer of 2012.
With basketball growing on the island, this in-fighting meant that football fell behind. It ultimately resulted in the demise of Sporting Mahones, and it meant that for the first time in six decades, Mahon didn't have a representative in the national leagues.
Hindsight and hampering Menorcan football
You wonder whether the merged entity caused great strain on football in Menorca, and whether effectively ending up with three separate "power" clubs in the city means a dilution of quality and resource.
Could UD Mahon or CD Menorca have made a return to the higher reaches of Spanish football if given a bit more time?
Had the merger agreements not been breached, would the merged entity of Sporting Mahones done better?
It's worth noting that the merged entity was never relegated to the Regional Preferente, and took its place in the national leagues from 1977 to its demise in 2012.
Nine of those seasons came in Segunda Division B and they are regarded as the most notable Menorcan club of the modern era as a result.
There is a new team, as of 2013, called Sporting Mahon, which effectively is born out of the ashes of the old club.