Player interview: CE Mercadal's Jona Segui Barber on life in Tercera Division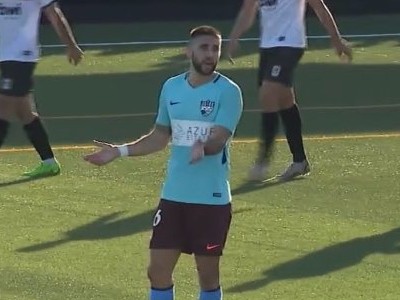 For the first time, this website brings you an exclusive interview with a player from the island – first in the hot seat is CE Mercadal defender, Jona Segui Barber.
Jona, 29, has made the step up to Tercera Division this season after playing for CD Migjorn, UD Mahon, Sporting Mahon and CE Alaior in the Regional Preferente Menorca.
His football journey started at the age of three at CCE Sant Lluis.
"I would describe myself as one of the old-style central defenders, with a good passing game, due to my size and forcefulness," said Jona, when asked to tell us about himself as a player.
He's very much a squad player in the CE Mercadal side, who currently sit 13th in the 16-team Balearics division with the bottom three teams to be relegated to the regional league at the end of the season.
Mercadal recovered with a strong second half of the season last term to avoid the drop when there were seven teams relegated due to the decrease in size of the league. They started the New Year with a 1-0 defeat at Santanyi at the weekend.
Jona said: "I think we are working very well. Of course we are not where we would like to be. Because of how we are working each training session, the intensity we put in, the desire we have, we should be higher up the table.
"But certain mistakes and the lack of success in front of goal put us in the situation we are in. However, I am sure that we will go up (the table), working as we work, the results will arrive and the CE Mercadal will go up this second (half of the season), I am completely sure."
Mercadal have won just four of their 15 games so far, three of those at home, with a 3-0 away win at winless CE Sant Jordi who sit bottom of the table.
Their other wins have come against three of the teams around them – 15th placed Soller, 12th placed Portmany and 11th placed PE Sant Jordi.
Turning their home ground in to a fortress, or finding a way to pick up points on the road, will have to be a focus in 2023 if they are to stave off the threat of relegation.
Jona added: "Fear of being relegated? No, the important thing is the team, we each give our best and try to add. We are 20, 22 players and all important. If someone else has to come to do it better, let him come. In this way Menorca will go up. 
"Playing in the third division and having to travel is a small handicap compared to the Majorcan teams. Every 15 days we have to catch a plane, eat out, change habits. Like it or not, that can influence. But it is not an excuse."
The risk of CE Mercadal dropping out of Tercera Division could leave Menorca once again without any teams in national competition. That's in spite of the promotion phase from regional this season, which will give the top five a chance to battle it out with compatriots from Majorca and Ibiza to earn promotion.
It would be a blow if Menorca lost its presence in Tercera once again. But Jona says there is potential for more clubs to make the jump.
"If we all (start) thinking about going up with effort and sacrifice and leaving aside the rivalries, Menorca will once again have several teams in third (Tercera Division), because there are very good quality players."
Thanks to Jona for the time in doing the interview; if you are connected with football in Menorca, be it as a player, fan, official or otherwise, please do get in touch via Facebook or Twitter and I would love to speak to you.