Vicente Engonga: Cult hero & the greatest player Menorca has seen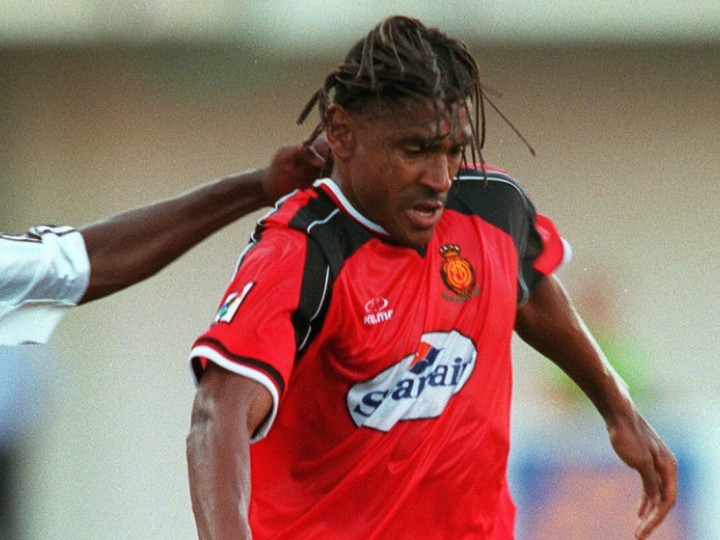 His career had notable stints in La Liga and Mallorca, an international tournament appearance at Euro 2000 and ended at Coventry City – and Vincent Engonga is arguably the greatest player ever to have played in Menorca.
Vicente Engonga was born in Barcelona in 1965, though he grew up in Cantabria where his father played for Rayo Cantabria and Gimnastic de Torrelavega. His father's journey is extraordinary in itself. From the Micomeseng area of Guinea, he came to Spain in 1958 due to his footballing talents and was reportedly the first black person to have set foot in Cantabria.
Engonga arrived in Menorca almost by accident. He was playing in Torrelavega when his brother Julio came to Mahon for his military service, soon bringing Vicente over with him. Sporting Mahones would soon become his first professional club, after he had managed to get permission from the military himself.
"The type of footballer that is missed in modern football"
A tall, strong central midfielder, Engonga modelled his game and his look on Dutch legend Ruud Gullit – even with the dreadlocks! As well as adding muscle to midfield, Engonga's technical quality was also recognised, and he perhaps jokingly attributed his long-ball passing accuracy to the poor quality of pitches he had to adapt to in northern Spain. One blog called Engonga "the type of footballer that is missed in modern football", noting his character and the respect he earned on and off the pitch.
Engonga joined Mahones in November 1986, making his debut against Alaior, and they would go on to win the Tercera Division title that season and earn promotion to Segunda Division B.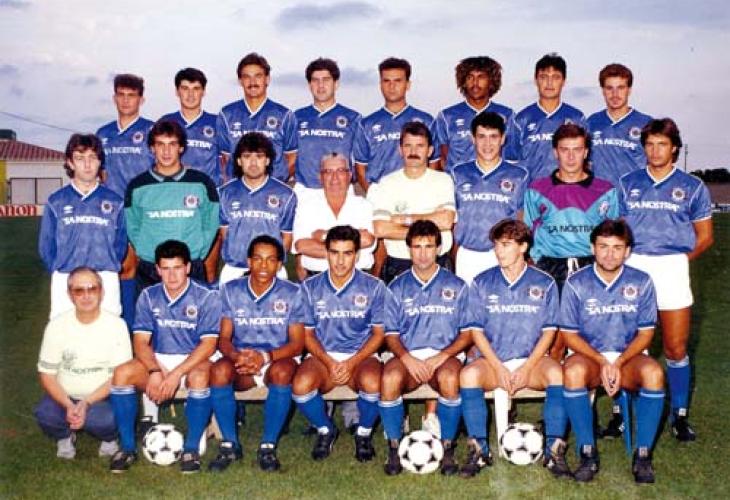 Between 1986 and 1991, he made 109 appearances and scoring 25 goals for Sporting Mahones.
Some of his opponents in those years included Pep Guardiola, the Barcelona legend who was just starting out and still featuring for Barcelona B, as well as Tito Vilanova and Carles Busquets. Check out this wonderful interview (in Spanish), where he discusses a raft of players he played with and against, and much more.
He was hailed as their best ever player by the local Menorca press back in 2014, as they reflected on the near 40 years since the controversial foundation of the merged club. A special 40th anniversary match involving a number of former players and coaches, was held in July 2014 where Engonga, naturally, impressed with the ball at his feet.
In 1988/89, he helped Mahones to a record fifth place in the third tier. He was a virtual ever present that term, making 32 appearances, including 29 starts. The following season was his most prolific in front of goal, as he scored 12 goals in 23 games, 20 of which were starts. During Engonga's stint at the club, they also finished 8th, 12th and 14th.
Club de Fútbol Sporting Mahonés

De pie: Ignacio, Vicente, Teixidor, Nofre, Luís, Quintero; Medina (ent.). Agachados: Medina, Buena, Albiol, Miguel, Min.#SportingMahonés#ArchivoDinámico pic.twitter.com/vdeZVrTNo4

— Calendario Dinámico (@SDinamico) December 2, 2018
His form there earned him a move to La Liga, where he played for Real Vallodolid, Celta Vigo, Valencia, Real Mallorca and Oviedo. It was Valladolid that lured him from Mahon, signing him with a year left on his deal. Then Mahones president, Gaspar Melsión Juan, didn't stand in his way – and the fee was simply a Valladolid friendly match in Mahon.
Gaining international recognition
During his time at Mallorca, between 1997 and 2002, he earned 14 international caps for Spain, including playing at the Euro 2000 tournament. He also made history as the first Spanish-born black player to play for the national team, playing under Jose Antonio Camacho. Engonga was also the second oldest player to debut for Spain, aged nearly 33 when he played against Russia to win his first cap in September 1998.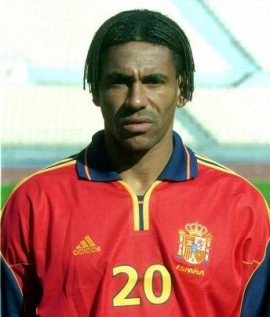 Engonga could have played international football during his time in Mahon. He received a letter from Guinea, asking if he and his three brothers would join the national team. But the issue was had Engonga gone to play for Guinea, he would have counted as a "foreigner" – something that wasn't permitted in Tercera Division teams at the time.
Mallorca would be the only other club, outside Sporting Mahones, that Engonga would represent more than a hundred times, making 149 league appearances. He was part of their team that won the Spanish Super Cup in 1998, and reached the UEFA Cup Winners' Cup final in 1999. He even had the honour of scoring the first ever goal for a Balearic team in the Champions League – notching a penalty for Mallorca against Arsenal.
Famous opponents
The wonderful 'rivals' feature on BD Futbol is a goldmine of 1990s Spanish football icons, if you want to see the likes of who Engonga went up against in La Liga. Fernando Hierro, Luis Enrique, Luis Figo, Rivaldo and Joseba Exteberria to name but five.
Engonga played in an infamous match between Real Valladolid and Real Madrid, which saw the footage of Real Madrid's Michel squeezing the testicles of Colombia international Carlos Valderrama gain worldwide notoriety in a time long before social media and going viral. Valderrama was one of several Colombians in the Valladolid team, who also had a Colombian coach, and it was only Engonga's second match too.
Engonga also shared a pitch with one of the greatest players ever, Diego Maradona. It was during Engonga's spell at Celta Vigo, and he ended up being one of four Celta players sent off in a 2-1 defeat, with Maradona scoring Sevilla's first goal.
By the time Engonga headed to the English First Division in February 2003, he was 37 and very much in the twilight of his career.
He only made eight appearances for the Sky Blues, tasting victory just once – as a substitute in a 2-0 win at Grimsby Town. After growing in to his time in England, Engonga made his best display in what turned out to be his penultimate game, a goalless draw with Gillingham. "I have played in the Spanish league for 15 years and at first I found it very difficult because my English is bad and I didn't understand some of the things about the game over here," he said. Unfortunately, he was unable to earn a new deal and opted instead to retire.
Vicente Engonga played 14 times for #ESP– and had an 8 game loan with the #skyblues in 2003 #ESPNED #WorldCup #pusb pic.twitter.com/3DkjsVe0sr

— Coventry City (@Coventry_City) June 13, 2014
Then Coventry boss, former Leeds and Liverpool midfielder Gary McAllister, said during his stint: "Since Vicente arrived here he has been the ultimate professional.
"He has been absolutely superb for the younger players as well with his attitude and professionalism.
"Finances dictate that it is going to be very hard to keep him. We have sat and chatted to his agent and spoken to Vicente who absolutely loves it here.
"He is not playing for massive amounts of money but he is similar to me in the respect that he is a similar age and it is not about the money now."
Recently, Engonga has been used in a video message to help promote Sporting Mahon's youth system amidst a raft of improvements at Bintaufa. Sporting Mahon were the phoenix club created following Sporting Mahones' sad financial demise in 2013.
He continues to be an ambassador for football on the island. A return came close in 2011, when he was linked with the Mahones coaching job after leaving Mallorca B, but in hindsight, it was perhaps for the best that he didn't become embroiled in the struggles that followed. The previous season, Engonga had returned to Bintaufa as an opposition coach when the two sides met.
When asked to nominate a cult hero for Menorcan football, there is only one answer – Vicente Engonga. His like will probably never be seen again.